Lachér Store
Welcome to our Interstate Shipping site for West Malaysia (excluding KL, Selangor, and Putrajaya)
For Local delivery to KL/Selangor/Putrajaya, visit our main site.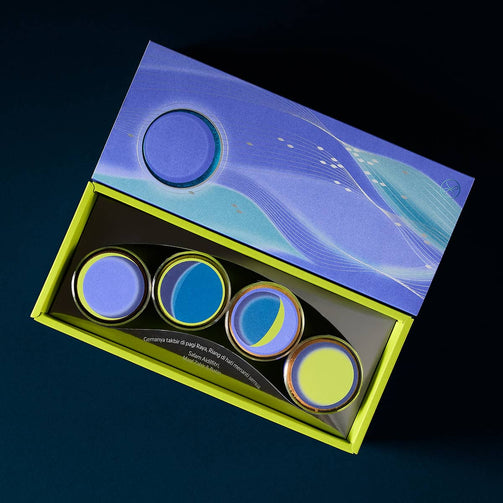 Limited Time Raya Cookies Set
Gift the Taste of Celebration
Ship to West Malaysia
Excludes KL/Selangor/Putrajaya
Featured product
2023 Raya Edition - Reflection (Raya Cookies Set)
Regular price

RM165.00 MYR

Regular price

Sale price

RM165.00 MYR
A symbol of self-reflection to honour Ramadan.
Our exclusive 2023 Hari Raya gift sets are designed around the central theme of reflection, symbolising the admirable practice of introspection during the holy month of Ramadan.
These gift sets have abstract lines that imitate the reflection of the moon on flowing water, and reflective foil accents that add a touch of shimmering elegance to embody the beauty and depth of self-reflection. To celebrate the moon that is vital in marking the beginning and end of Ramadan, the sleeve of the box glows a crescent moon as a radiant symbol of the joyous arrival of Hari Raya. To further capture the moon's essence, on opening the cookie gift box, you'll be greeted by the 4 phases of the moon, reminding us of its enduring presence throughout the holy month.


2023 Raya Edition Cookies
Dark Chocolate Shortbread Sandwich Cookies
Crafted using 54.5% Dark Belgian Chocolate and a hazelnut praline paste made by hand, this cookie is bittersweet at its finest, and accentuates the roasted flavours of the high-quality chocolate. The melt-in-the-mouth hazelnut praline paste adds a nutty-sweet flavour to the mix, which blends seamlessly with the decadent taste of the cocoa.


Rose Cranberry Sablé


The buttery cookie base boasts a rich and creamy tender crunch that is delightfully complemented by the 100% natural fragrant and floral notes of rose. It has a subtle perfumed sweetness that is enhanced by the addition of chewy dried cranberries. The tartness of the cranberries provides a pleasant contrast, resulting in a harmonious and slightly refreshing taste.




Matcha Shortbread Sandwich Cookies
Crafted with Japanese Uji matcha powder, the earthy bittersweet notes of matcha are beautifully balanced by the delicate sweetness of the biscuity shortbread and the addition of white chocolate in the aromatic matcha ganache. The ganache is smooth and melt-in-the-mouth, revealing a harmonious blend of its bittersweet flavours with the rich and buttery tones of the shortbread.


Gula Apong Coconut Sablé
This crumbly, yet crunchy butter cookie highlights Sarawak's famous gula apong and is elevated in flavour and texture by the ideal addition of moist and chewy desiccated coconut. The nutty sweetness of the coconut tastefully complements the rich and buttery flavours of the cookie base; while the rich, caramel-like flavours of gula apong marry the milky tropical flavours of the coconut to provide a breezy depth of sweetness that lingers on your taste buds. 

Weight and Measurements
Dark Chocolate Hazelnut Shortbread Sandwich
Weight: 180g+ (9-10 pieces)
Diameter: 5.5cm

Matcha Shortbread Sandwich Cookies
Weight: 178g+ (9-10 pieces)
Diameter: 5.5cm

Rose Cranberry Sablé 
Weight: 130g+ (9-10 pieces)
Diameter: 6cm

Gula Apong Coconut Sablé 
Weight: 180g+ (9-10 pieces)
Diameter: 6cm


Outer Box
Measurement: 28.8cm x 12.2cm x 9.5cm (L x W x H)
Disclaimer
Please note that our cookies are handmade, and the size and measurements may vary slightly due to the baking process or other factors. We take the total weight of the cookies per jar as the final measurement to ensure consistency in our products. We strive to provide the highest quality products and appreciate your understanding of the nature of our handmade products.
Storage Instructions
Best before 30 April 2023

Store below 30°C in a cool and dry place. Avoid direct sunlight.

Store in an airtight container once opened.
Allergy and Ingredients information
Allergy
Contains dairy, egg, gluten and nuts.
Ingredients
Dark Chocolate Hazelnut Shortbread Sandwich


Butter, Cocoa Powder, Dark Chocolate, Egg, Flour, Ground Almond, Hazelnut, Icing Sugar, Salt, Sugar

Matcha Shortbread Sandwich Cookies
Butter, Egg, Flour, Ground Almond, Icing Sugar, Matcha Powder, Salt, White Chocolate
Rose Cranberry Sablé 
Baking Powder, Butter, Cranberry, Egg Yolk, Flour, Ground Almond, Icing Sugar, Natural Rose Compound, Red Colouring, Salt, White Chocolate

Coconut Gula Apong Sablé 
Butter, Desiccated Coconut, Egg, Flour, Ground Almond, Gula Apong, Salt
Our Store
Lachér Patisserie
17, Jalan Teknologi 3/3A, Surian Industrial Park, 47810 Kota Damansara, Selangor.
Pickup hours
10am - 6pm (Mon - Sun)